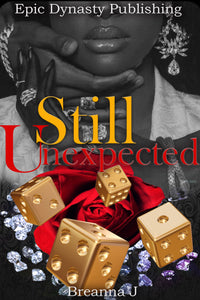 Still Unexpected ebook (Book 2 )
Nova's goal was to leave behind the life she knew. One that had become filled with hurt she couldn't bear. While Kareem's goal was to step away from the life, he was so good at, but had no love for. Neither of them expected the life they were now living. But now the unexpected love couple is back.
Despite death, murder, lies and all the unexpected things of book one that affected them both; Nova and Kareem are determined to stand strong and fight for their lives, family, and love while facing their own obstacles and shared ones.
Plenty had changed, including who's in control and who no longer has a sit at the table. But there are still so many unexpected things to happen, including new members, friendships will be broken, and family secrets being exposed. Some of these things might just drive change in each character for better or for worse.